History: In A Day Like Today
Tweet
President George Washington's devoted widow and the nation's first first lady, Martha Dandridge Custis Washington, dies at her Mt. Vernon home on this day in 1802. She was 70 years old.
Like her husband, Martha Washington was born in the American colonies as a British subject (1731). The petite, dark-haired 19 year old married her first husband, a prosperous 39-year-old Virginia planter named Daniel Parke Custis in 1750. The couple resided in a mansion called the White House and, after Custis died in 1757, Martha ran the plantation, aided by her innate business sense. Two years later, Martha, then 26 and a wealthy and socially prominent widow with two children, met George Washington. At the time, George was a colonel in the British army, a veteran of the French and Indian War and a member of the Virginia House of Burgesses. The two were married in 1759.
George and Martha moved to Mt. Vernon when he inherited the estate in 1761. Although the couple had no children of their own–many scholars suggest Washington may have been sterile–George adopted Martha's children as his own. Before the American Revolution began in 1776, Martha helped to run two households–Mt. Vernon and the estate she inherited from Custis–with an enormous staff of slaves and servants. During the war, while George led the Continental Army, she frequently followed him to military encampments to take care of him and urge the local women to help feed, clothe and tend to the soldiers.
Sources: (HChannel) /Internet Photos/FloridaLatinConnection.org
Politics in History/  Florida  Latin  Connection/ Arnoldo Varona, Editor 
May 9, 1914:
Woodrow Wilson proclaims the first Mother's Day holiday
On this day in 1914, President Woodrow Wilson issues a presidential proclamation that officially establishes the first national Mother's Day holiday to celebrate America's mothers.
The idea for a "Mother's Day" is credited by some to Julia Ward Howe (1872) and by others to Anna Jarvis (1907), who both suggested a holiday dedicated to a day of peace. Many individual states celebrated Mother's Day by 1911, but it was not until Wilson lobbied Congress in 1914 that Mother's Day was officially set on the second Sunday of every May. In his first Mother's Day proclamation, Wilson stated that the holiday offered a chance to "[publicly express] our love and reverence for the mothers of our country."
In 2002, President George W. Bush echoed Wilson's sentiments by acknowledging mothers in his official statement on Mother's Day in 2002. He commended foster mothers as well as his own "fabulous mother" for their "love and sacrifice." He also mentioned past presidents' expressions of appreciation for their mothers.
He quoted John Quincy Adams as having said "all that I am my mother made me" and Abraham Lincoln's sentiment that "all that I am or hope to be I owe to my angel mother ?[my mother's prayers] have clung to me all my life." Bush's own mother, Barbara, was a popular first lady when the elder Bush served as president from 1989 to 1992.
Sources: (HChannel) InternetPhotos/FloridaLatinConnection.org
Politics in History/Florida Latin Connection/ Arnoldo Varona, Editor  
Apr 25, 1947:
Truman inaugurates White House bowling alley
President Harry S. Truman officially opens the first White House bowling alley on this day in 1947. The two-lane bowling alley, situated in the West Wing, had been constructed earlier that year. According to Smithsonian Magazine, a group of Truman's fellow Missourians funded the construction of the bowling alley in honor of the president. They had intended to open the alley as part of Truman's 63rd birthday celebration on May 8, but construction was completed ahead of schedule. Truman's favorite pastime was poker and although he had not bowled since he was a teenager, he gamely hoisted the first ball, knocking down 7 out of 10 pins.
One of the pins is now on display at the Smithsonian Institution. Truman did not use the alley much himself, but supported a group of White House employees in forming a White House Bowling League in 1950. Teams included Secret Service agents, household staff, secretaries, switchboard operators and groundskeepers. The teams competed in tournaments across the country; many opponents were surprised to discover that the players were from the real White House. Eisenhower closed the alley in 1955 and turned it into a mimeograph room. Later, another alley was opened next door in the Old Executive Office Building (now the Eisenhower Building), which President Johnson and his wife Lady Bird used frequently.
Nixon used that second bowling alley until he had an additional one-lane alley installed underground directly beneath the North Portico entrance of the White House.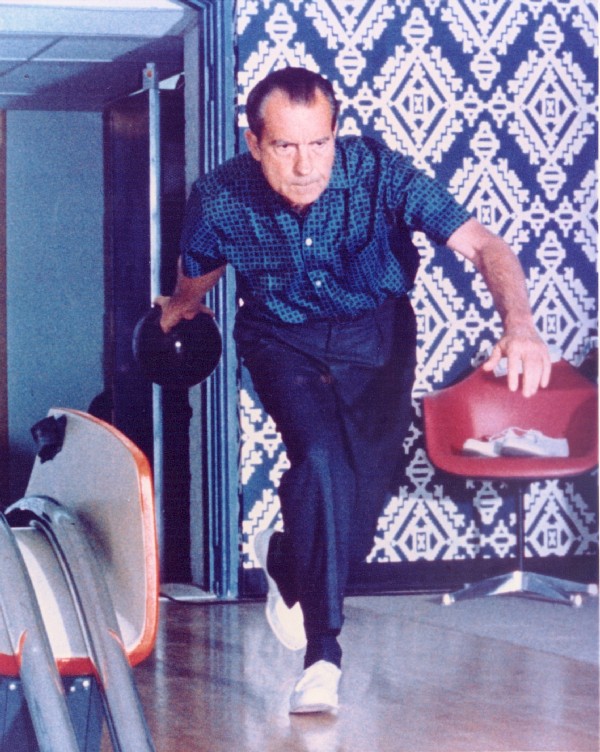 Bowling is just one of the many recreational facilities presidents have enjoyed the use of at the White House–over the years, the presidential residence has also been outfitted with putting greens, swimming pools, a jogging track, a tennis court and a pool. 
Sources:(ChannelH)/InternetPhotos/FloridaLatinConection.org
PoliticsInHistory/ Florida Latin Connection/ Arnoldo Varona, Editor 
Apr 17, 1961: JFK waits for word on the Bay of Pigs invasion
President John F. Kennedy waits for word on the success of a covert plan to overthrow Cuba's government on this day in 1961. Kennedy had authorized Operation Zapata, the attempt to overthrow Cuba's communist leader, Fidel Castro, on April 15. The failed coup became what many have called the worst foreign-policy decision of Kennedy's administration.
When Kennedy entered the White House in January 1961, he inherited from his predecessor, Dwight D. Eisenhower, an ongoing conflict with the leftist regime in Cuba. Aided by Soviet-bloc weaponry, Castro led a brutal clampdown on human rights and dissent after taking power in 1959. That same year, Eisenhower had implemented a trade embargo on Cuban goods and, in 1960, broke off diplomatic relations with the island nation.
Before he left office, Eisenhower had approved, but did not launch, a covert plan devised by his vice president, Richard Nixon, and the CIA to overthrow Cuba's leader, Fidel Castro. When Kennedy assumed the presidency, he retained Eisenhower's CIA and military advisors who had helped plan the mission. At their urging, Kennedy made the final decision to send approximately 1,200 CIA-trained Cuban exiles to land at the bay on Cuba's southern coast called Bahia de Cochinos (Bay of Pigs).
The attempted coup failed miserably, largely due to faulty intelligence. Kennedy and the CIA leaders in charge of the mission (all inherited from Eisenhower) believed that Cuba's people and its military would spontaneously rise up to help the exile army overthrow Castro, a grave miscalculation. Instead, Castro's forces captured most of the exile army, executed some and held the rest prisoner until private American groups raised funds for their ransom.
The CIA and JFK's administration blamed each other for the plan's failure. The CIA cited JFK's failure to order prolonged offensive air strikes against Cuba's air force at the same time as the land operation, while JFK and his advisors blamed the CIA for keeping information from the president, including several analysts' conclusions that the plan's success was dubious. The ensuing tension between the president and his military and intelligence advisors prompted JFK to rely even more heavily on the advice of his brother, Robert F. Bobby Kennedy, who was also his attorney general, when making future foreign-policy decisions.
Sources:(ChannelH/ InternetPhoto/FloridaLatinConnection.org
Politics in History/Florida Latin Connection/ Arnoldo Varona, Editor