Florida Governors
Tweet
JOHN E. "JEB" BUSH
John Ellis "Jeb" Bush (born February 11, 1953) is an American politician who served as the 43rd Governor of Florida from 1999 to 2007. He is a prominent member of the Bush family: the second son of former President George H. W. Bush and former First Lady Barbara Bush; the younger brother of former President George W. Bush; and the older brother of Neil Bush, Marvin Bush, and Dorothy Bush Koch.
Jeb Bush was born in Midland, Texas. When he was six years old, the family relocated to Houston, Texas.
Following in the footsteps of older brother, George, Jeb Bush attended high school at the private Massachusetts boarding school, Phillips Academy Andover. At the age of 17, he taught English as a second language in León, Guanajuato, Mexico, as part of Phillips Academy's student exchange program. While in Mexico, he met wife, Columba Garnica Gallo.
In 1973, Bush graduated Phi Beta Kappa from the University of Texas at Austin with a BA in Latin American Studies. He completed his coursework in two and a half years with generally excellent grades. After considering a career in Hollywood, he instead chose to pursue politics.
Family
After graduating from UT at Austin, married Columba Garnica Gallo, on February 23, 1974. Their three children are George P. Bush, Noelle Bush, and John Ellis Bush, Jr. Their eldest son, George Prescott Bush (born April 24, 1976, in Texas), went toGulliver Preparatory School, studied at Rice University, and earned a Juris Doctor degree from the University of Texas School of Law. Noelle Lucila Bush (born July 26, 1977, in Texas) graduated from Tallahassee Community College in 2000 and enrolled in Florida State University in 2001.
John Ellis Bush, Jr., Bush's youngest son (born December 13, 1983, in Miami), works for a Miami, Florida commercial real estate firm. In October 2007, he endorsed Rudy Giuliani for the 2008 Republican Presidential nomination, and supported the effort as chairman of "Florida Young Professionals for Rudy". In the 2012 GOP Primary, Jeb Bush, Jr. endorsed former Utah governor and former ambassador to China Jon Huntsman.
On January 29, 2002, according to a police report made public via The Smoking Gun, Noelle Bush attempted to "fraudulently obtain a prescription" at a Walgreens Drug Store located in Tallahassee, Florida. The attending officers, Bob Bascom and Mark E. Dent of the Tallahassee Police Department, ascertained that Noelle Bush had telephoned the pharmacy using the name "Noelle Scidmore" in an attempt to obtain Xanax, a prescription drug used to treat anxiety disorders. As a result of her arrest, Noelle Bush was ordered by a judge to attend a rehabilitation program at the Center for Drug-Free Living in Orlando, Florida. During her time at the facility, Noelle Bush was found in contempt of court after being found in possession of two grams of cocaine, and was sentenced to 10 days in jail. Upon completion of her rehabilitation program, the governor's press office released a statement on his behalf. "Columba and I are pleased that our daughter Noelle has completed this step, and grateful for the treatment she's received … . She has worked hard to get here. We are proud of her efforts and love her very much." Regarding her treatment, Noelle Bush herself told the court "It's been quite a challenge, and I'm grateful."
Early career
Business experience in Texas and abroad
Bush went to work in an entry level position in the international division of Texas Commerce Bank, a job he received through James Baker, a long time family friend and chairman of the board of Texas Commerce Bank. Bush assisted in drafting communications for the company's chairman, Ben Love.
In November 1977, he was sent to the Venezuelan capital of Caracas to open a new operation for the bank. Bush spent about two years there, working in international finance. He eventually worked for the bank's executive program.
Bush returned to the United States to work without salary on his father's campaign for the Republican presidential nomination in 1980, explaining:
"I wasn't motivated for politics, I wasn't motivated because of ideology or anything. My dad's the greatest man I've ever met or will meet; I can predict that fairly confidently. It was payback time, simple as that."
His father ultimately lost the Republican nomination for President that year, but was chosen to be Ronald Reagan's running mate. That fall, George H.W. Bush was elected Vice President of the United States, and won reelection in 1984. In 1988, the elder Bush won both the Republican Party's presidential nomination and the election, becoming the nation's 41st president. In 1992 Bush's father was defeated for re-election by then-Arkansas Governor Bill Clinton.
Business and lobbying experience in Miami
Following the 1980 presidential election, Bush and his family moved to Miami-Dade County, Florida. He took a job in real estate with Armando Codina, a 32-year-old Cuban immigrant and self-made American millionaire. Codina had made a fortune in a computer business, and then formed a new company, IntrAmerica Investments Inc., to pursue opportunities in real estate.
During Bush's years in Miami, he was involved in many different entrepreneurial pursuits, including working for a mobile phone company, serving on the board of a Norwegian-owned company that sold fire equipment to the Alaska oil pipeline, becoming a minority owner of the Jacksonville Jaguars, buying a shoe company that sold footwear in Panama, and getting involved in a project selling water pumps in Nigeria.
Codina eventually made Bush his partner in a new development business, which quickly became one of South Florida's leading real estate development firms. As a partner, Bush received 40% of the firm's profits.
In 1990, Bush interceded with his father, the president, to pardon Orlando Bosch, a Cuban exile whom Attorney General Dick Thornburgh called an "unrepentant terrorist." Bosch was released from prison and granted residency in the U.S.
Recarey, who ran International Medical Centres (IMC), employed Bush as a real estate consultant and paid him a $75,000 fee for finding the company a new location, although the move never took place. Bush did, however, lobby the Reagan/Bush administration vigorously and successfully on behalf of Recarey and IMC. "I want to be very wealthy," Jeb Bush told the Miami News when questioned during that period.
Civic and charitable activities
After narrowly losing a 1994 election for Governor of Florida against Lawton Chiles, Bush pursued policy and charitable interests. He started a non-profit organization called The Foundation For Florida's Future, a think tank that stated as its mission influencing public policy at the grassroots level. Jeb met with Noel Serrano, a member of the Latin Chamber of Commerce in 1991. Noel states, "Jeb was always a dedicated Public Servant long before he became Governor" He also "volunteered time to assist the Miami Children's Hospital, the United Way of Dade County and the Dade County Homeless Trust".
Jeb Bush currently serves as co-chair of the Barbara Bush Foundation for Family Literacy, along with his sister Doro Bush Koch. Jeb Bush has also worked with The James Madison Institute, a free market public policy think tank based inTallahassee, FL. He helped the institute in numerous ways and still has his think tank working in conjunction with it. In June 2008, Jeb's institute, the Foundation for Excellence in Education,partnered with JMI to hold a summit called "Excellence in Action: A National Summit on Education Reform"
In 1996, The Foundation For Florida's Future published a book that Bush had co-written, Profiles in Character (ISBN 0-9650912-0-1), a clear parallel to John F. Kennedy's 1955 book Profiles in Courage. The foundation also published and distributed policy papers, such as "A New Lease on Learning: Florida's First Charter School", which Bush co-wrote.[10] Bush subsequently wrote the foreword to another book, published by the conservative Heritage Foundation and written by Nina Shokraii Rees,School Choice 2000: What's Happening in the States (ISBN 0-89195-089-3).
Bush co-founded the first charter school in the State of Florida: Liberty City Charter School, a grades K-6 elementary school. The school is situated in Liberty City, a Miami neighborhood that was the site, in 1980, of the first major race riot since the Civil Rights era.The school's co-founder, working alongside Bush, was T. Willard Fair, a well-known local black activist and head of the Greater Miami Urban League. The Liberty City Charter School still operates today as a charter school.
Additionally, Bush is an active rock climber, and a strong advocate for climber's rights.
In 2000, Bush established the Points of Light program to recognize an "exemplary volunteer, organization, or person" such as Jimmy Rotonno of Our Father's House Soup Kitchen who won the award in 2003.
[edit]Religious affiliation
In 1995, Bush converted from Episcopalian to Catholicism. For many years, he and his wife have attended the Church of the Epiphany, a Catholic parish located in Miami. Bush is a Third Degree Knight of Columbus according to an August 3, 2004 speech his brother, George W. Bush, made at the 122nd Knights of Columbus Convention in Dallas, Texas. The following is an excerpt from the speech:
"I'm proud to say that my family has contributed to your ranks. A few years ago, Governor Jeb became a Knight. And he—yes—and he recently took his Third Degree. I'll see him this weekend. His son is getting married. I'll pass on the word, aim for the Fourth."
In 2004, Jeb Bush (while still governor) was inducted into the Fourth Degree by Gary L. McLain at a ceremony held Nov. 1. Bush, a member of Father Hugon Council 3521 in Tallahassee, joined Father Hugon Assembly.
Bush's impact on his political party
Bush's appeal to Florida's highly diverse group of voters, along with his success in expanding the "big tent" of the Florida Republican Party, appear to have propelled him into a commanding political position. Nationwide, American conservatives appear to be positive about Bush, seeing him as committed to upholding core conservative principles.[34]
Throughout his two administrations, Bush's office touted his record of non-discrimination and rewarding merit, claiming he employed highly qualified women, blacks and other minorities more often in top-level government positions than any previous Florida Governor.
Outside of Florida, fellow Republican leaders throughout the country have sought Bush's aid both on and off the campaign trail. Bush's out-of-state campaign visits include Kentucky, where Republican challenger Ernie Fletcher appeared with Bush and won that state's governorship in 2003, ending a 32-year streak of Democratic governors. In California, after Democratic Governor Gray Davis was ousted in a recall vote, Bush dispatched Florida's budget director to that state to lead an independent audit of California's budget, at the request of the state's newly elected Republican Governor, Arnold Schwarzenegger.
Political interests and business activities
Bush has been active in the neoconservative think tank Project for the New American Century, whose stated goal is to promote American global leadership.
Since 2004, he has been serving a four-year term as a Board Member for the National Assessment Governing Board (NAGB). Created by Congress, this board's purpose is to establish policy on reports examining K-12 students' academic progress in America's public and private schools. In 2008, Bush will be serving on the NAGB educational committee focused on Standards, Design and Methodology.
In April 2007, Jeb Bush joined Tenet Healthcare's board of directors. The following August, Bush joined investment bank, Lehman Brothers, as an adviser in its private equity group.
Bush as NFL commissioner
In May 2006, AP reported that Bush was privately approached to become the next commissioner of the National Football League.  This is said to be an interest of his, but it was unknown whether he would take the position. The former commissioner, Paul Tagliabue, announced that his tenure would soon be over and he is searching for replacements. "I'm flattered," Jeb Bush said May 24, 2006, of the NFL's interest, "but I'm Governor of the state of Florida and I intend to be Governor until I leave—which is January 2007. And I'm not going to consider any other options other than being Governor until I finish". Roger Goodell eventually became the new NFL commissioner.
Speech at D.C. Summit
On January 27, 2007, Bush spoke as the keynote speaker at the National Review Institute's Conservative Summit in Washington, D.C. speaking about the Democratic take over in Congress. He told political conservatives "we lost, and there are significant reasons that happened, but it isn't because conservatives were rejected. It's because we rejected the conservative philosophy in this country." He told them "don't…abandon conservative principles…we don't need to be the end all and be all for every special interest group, for every constituent that you like, for every person that's given a fundraising check to your campaign, for everything that is just wrong about public policy and politics". In attendance at the summit was former chairman of the Republican National Committee Ed Gillespie who said if he, like Bush, "left office with approval ratings above 60 percent…he might be in Des Moines today [preparing for the presidential primary]". Bush denied rumors that he would run for President in 2008, but "when questioned did not rule out running as a vice presidential candidate." He joked about being out of work for the first time in his life but said he is happy for the opportunity to "take a pause."
Possible run for U.S. Senate
In 2008, Bush indicated that he was considering running in the 2010 U.S. Senate race for the seat being vacated by Mel Martinez, who announced that he would retire at the end of his term. But in January 2009, he announced that he would not run for the Senate. Instead, he supported Marco Rubio for the position.
2012 Presidential election
Throughout 2009 and 2010, rumors abounded that Bush would attempt to win the Republican nomination for the 2012 presidential election; rumors that he strongly denied from the beginning. In February 2011, after renewed calls were made for him to run for president, Bush was asked whether the door remained closed on a Presidential run. "Yes", was his reply. In July 2011, he reiterated his position that he was not running, although he was heavily critical of the Obama administration.That month his son George urged him to join the 2012 primary.
Sources: Wiki/InternetPhotos/FloridaLatinConnection.org
FloridaGovernors: John "Jeb" Bush/ Florida Latin Connection/ Pura Varona, Editor 
Kenneth Hood "Buddy" MacKay, Jr. (born March 22, 1933) is an American politician and diplomat from Florida. A Democrat, he was briefly the 42nd Governor of Florida following the death of Lawton Chiles on December 12, 1998. During his long public service career he was also state legislator, U.S. Representative, Lt. Governor and later special envoy of President Bill Clinton's administration for the Americas.
As of 2012 he is the last Democrat to serve as Florida Governor, while Chiles remains the last Democrat elected to that office.Early life and career,
MacKay was born to a citrus-farming family in Ocala, Florida. He served in the United States Air Force during the 1950s, and then attended the University of Florida, where he was tapped in to Florida Blue Keyand eventually received a law degree. MacKay was inducted into the University of Florida Hall of Fame (the most prestigious honor a student can receive from UF). He married Anne Selph in 1960; the couple has four sons.
MacKay was elected to the Florida House of Representatives in 1968, and to the Florida Senate in 1975. From 1983 to 1989 he served for three terms in the United States House of Representatives, where he made controlling the national budget one of his main concerns. In 1988 he received the Democratic nomination for the United States Senate, but lost in a very close race for that office to Connie Mack III.
Lieutenant Governor and gubernatorial candidate
MacKay won the 1990 Democratic primary for Lieutenant Governor on the ticket headed by former Senator Lawton Chiles. They won the election and were re-elected in 1994.
As Lieutenant Governor, MacKay was given many duties and played a very important role in Chiles' cabinet, including being co-chair of the Florida Commission on Education, Reform and Accountability. He was regarded as the most significant and powerful lieutenant governor in Florida's history.
MacKay was a strong supporter of use of capital punishment, as Chiles was. When he was asked during gubernatorial election about his positions on use the death penalty and electric chair in Florida, he replied: I support the death penalty and support the use of the electric chair so long as it operates in a reliable fashion. However he suggested Florida should change its mode of execution after Pedro Medina's botched execution, said: The last thing we want to do is generate sympathy for these killers.
In 1998 MacKay sought to succeed term-limited Chiles as Governor, easily winning the Democratic nomination with his full support (Chiles and MacKay were known for their friendly relationship). He was soundly defeated by Republican nominee Jeb Bush.
Governorship
Despite defeat, MacKay became Chiles' successor when Chiles died unexpectedly on December 12, 1998. MacKay was at this time in Boston with his wife. When they returned to their hotel room, they found a message about Chiles' death, asking MacKay to get on a plane to Atlanta, where they were picked up by a state crew and flown through thick fog to Tallahassee. At 12.30 a.m. the next day 65-year old MacKay was sworn-in as Florida's 42nd Governor at his capitol office for the 23 days remaining in Chiles' term.
MacKay's primary tasks as Governor were overseeing Chiles' funeral service and transition of power to Governor-Elect Bush. He, however, made some leftover appointments.
There's no great pleasure in this - said MacKay about taking a job he sought, but got for a short time after his political partner's death. He also stated how sorry he was that he would be unable because of short time and lack of mandate to take care on such issues as education and health care.
MacKay was succeeded by Bush on January 5, 1999.
Diplomacy and later life
Former Governor MacKay (right) with former Governor and Senator Bob Graham
After his governorship ended, MacKay retired from active politics. He, however, remains publicly active.
He was appointed by President Clinton a special envoy for the Americas. During his tenure he traveled to 26 countries in the Americas, working on issues such as the Free Trade Area of the Americas (FTAA), the North American Free Trade Agreement (NAFTA), the Caribbean Basin Initiative (CBI), hemispheric security, strengthening the rule of law, labor standards, environmental policies and human rights.
He attended a symposium "Day with Florida Governors", organized by University of Central Florida and Louis Frey institute on March 27, 2006 with Governor Bush and former Governors Claude Roy Kirk, Jr., Reubin Askew, Bob Graham and Bob Martinez (Wayne Mixson, who served for three days after Graham's resignation wasn't present at the event).
MacKay's memoir about his political career, How Florida Happened, was published by the University Press of Florida in March 2010.
Sources: Wiki/BuddyLife/InternetPhotos/FloridaLatinConnection/ Varona
Florida Governors:Buddy MacKay/ Florida Latin Connection/ P. Varona, Editor
LAWTON M. CHILES, JR.
Lawton Mainor Chiles, Jr. (April 3, 1930 – December 12, 1998), was an American politician from the US state of Florida. In a career spanning four decades, Chiles, a Democrat who never lost an election, served in the Florida House of Representatives (1958–1966), the Florida State Senate (1966–1970), the United States Senate (1971–1989), and as the 41st Governor of Florida from 1991 until his death in office in the last month of his second term as governor. He was the first Democratic Governor in state history to have a Republican-controlled legislature, and was, to date, Florida's last elected Democratic governor (Buddy MacKay, who succeeded him upon his death, holds the title of Florida's most recent Democratic governor).
Chiles was born in Polk County, Florida near Lakeland, the son of Margaret Kate (née Patterson) and Lawton Mainor Chiles. In Polk, he attended public school, then went on to the University of Florida atGainesville. At the University of Florida, he was active in student politics, and was inducted into both the university Hall of Fame (the most prestigious honor a student can receive at UF) and Florida Blue Key. He was also a member of the Alpha Tau Omega fraternity. He graduated in 1952. Following his college years, he entered the Korean War as an artillery officer in the United States Army. After the war, Chiles returned to the University of Florida for law school, from which he graduated in 1955; he passed the state bar exam that year and went into private practice in Lakeland. He was married to Rhea Chiles.
In 1958, Chiles, a Democrat, was elected to the Florida House of Representatives. He served there until 1966, when he was elected to a seat in the state senate, which he held until 1970. While in the state senate, Chiles served on the 1968 Florida Law Revision Commission. During his time in the state legislature, Chiles continued to work as a lawyer and developer in Lakeland. He was one of the initial investors in the Red Lobster restaurant chain.
The 1,003-mile walk
In 1970, Chiles decided to run for a seat in the United States Senate. At the time, despite his 12 years in the state legislature, he was largely unknown outside his Lakeland-based district. To generate some media coverage across the state, Chiles embarked upon a 1,003-mile, 91-day walk across Florida from Pensacola to Key West. The walk earned him the recognition he sought, as well as the nickname that would follow him throughout his political career– "Walkin' Lawton". In his journal Chiles wrote that sometimes he walked alone, while other times he met ordinary Floridians along the way. In later years, Chiles would recall the walk allowed him to see Florida's natural beauty, as well as the state's problems, with fresh eyes.
Chiles v. Cramer
In the general election campaign, Chiles faced U.S. Representative William C. Cramer of St. Petersburg, the first Republican to have served in Congress from Florida since Reconstruction.
Cramer, a graduate of Harvard Law School, questioned Chiles's votes as a state senator on several matters regarding insurance. One law increased automobile liability rates by 50 percent over two years, and another raised premiums for school bus insurance, at a time that Chiles's insurance agency in Lakeland held the policy on the Polk County School Board, but such "conflict-of-interest" accusations seemed to have little political effect. The "self-made" Cramer depicted Chiles as coming from a "silver spoon" background with a then net worth of $300,000, but the media ignored questions about the candidates' personal wealth. Instead, reporters focused on the walk, often termed a "public relations stroke of genius." Prior to the walk, Chiles was identified by only 5 percent of voters; afterwards, he had widespread positive recognition.
The Tallahassee Democrat forecast correctly that Chiles's "weary feet and comfortable hiking boots" would carry the 40-year-old "slow-country country lawyer" with "boyish amiability", and "back-country common sense and methodical urbane political savvy" to victory. Chiles's "Huck Finn" image was contrasted one night in Miami when he held a fried chicken picnic while the Republicans showcased a black-tie $1,000-a-plate dinner.
Cramer could not match Chiles's public appeal. An observer described Cramer's "charisma" as "a speech in the Congressional Record." A Cramer aide said it was difficult "selling experience. It's not a sexy thing." A Chiles advertisement urged that voters "Vote for yourself. Chiles walked our streets and highways to hear what you have to say. That's why a vote for Chiles is like a vote for yourself."[8] With "shoeleather and a shoestring budget", Chiles presented himself as a "problem solver who doesn't automatically vote 'No' on every issue."
Cramer said that he should have demanded more debates and rebuffed the walking tactic: "I never could get that turned around. He was walking, and I was running. But the press was enamored with the walk … Every time he was asked a question about where he stood, he would quote somebody that he met on the campaign trail to state what he was to do when he got to the Senate consistent with what that constitutent had said. The basic approach gave him more credibility to his walk, which had nothing to do with his qualifications for the Senate but gave him free publicity and appealed to the 'little man.'"
With ecology a national concern by 1970, Chiles announced his opposition to the Cross Florida Barge Canal, which had originally been supported by every member of the Florida congressional delegation. The project, one-third completed, was cancelled early in 1971 and is now a protected green belt corridor. Chiles endorsed federal funding to remove waste from the bass-teeming Lake Apopka in central Florida. By contrast, Cramer received little credit from environmentalists although he had drafted the Water Pollution Conrol Act of 1956 and had sponsored legislation to protect alligators, stop beach erosion, dredge harbors, and remove oil spills. Instead, Cramer's critics accused him of having weakened anti-pollution laws. Cramer questioned Chiles's opposition to a proposed severance tax on phosphate mining, which particularly impacted Tampa Bay. Cramer declared that "Liberal Lawton has protected the phosphate industry — the state's single largest polluter."
By 1974, a survey showed Floridians favored limits on development, and 60 percent urged more government funding for conservation.
Only three newspapers—in Orlando, Fort Myers, and Pasco County—supported Cramer in the race against Chiles. In the face of media opposition, Cramer failed to pin the "liberal" label on Chiles, who called himself by the rare hybrid term "progressive conservative." Explaining Cramer's inability to make "liberalism" an issue in 1970, The New York Times observed that Chiles and his successful gubernatorial running mate, Reubin Askew of Pensacola "convey amiable good ol' boy qualities with moderate-to-liberal aspirations that do not strike fear into the hearts of conservatives."
Chiles relied heavily on his support from the retiring Senator Spessard Holland. He noted that Cramer had expected to face former Governor Farris Bryant, who like LeRoy Collins in 1968, Gurney's foe, had ties to the administration of [[U.S. PresidentLyndon B. Johnson. Bryant lost the senatorial primary to Chiles. "I'm not anything Cramer thought he would be running against. So he's reduced to telling lies about me," Chiles quipped. Chiles said that Cramer can bring Nixon, Agnew, Reagan, and anybody else he wants. ... I'll take Holland on my side against all of them."
Cramer said a Republican-majority Senate would lead to the removal of controversial Senator J. William Fulbright of Arkansas, the chairman of the Senate Foreign Relations Committee who had long opposed the Vietnam War. Chiles, however,retorted that if Republicans controlled the Senate other southern Democrats would also forfeit committee chairmanships earned through their seniority.
The Senate
Chiles was twice re-elected to the U.S. Senate -- 1976 and 1982, both heavily Democratic years. Chiles, never flashy, was considered a moderate lawmaker who rarely made waves. He served as the chairman of the Special Committee on Aging of the 96th Congress (1979–1981), and in the 100th Congress (1987–1989) served as chairman of the influential Senate Budget Committee. While heading the Budget Committee, he played a key role in the 1987 revision of the Gramm-Rudman-Hollings Act.
In 1985, Chiles underwent quadruple-bypass heart surgery. After his recovery, he became increasingly frustrated with the slow pace of work in the Senate, complaining that it was too difficult to get anything done. He hence announced in December 1987 that he would not seek re-election the next year. Chiles was succeeded by Republican Connie Mack.
Governor of Florida
After the surgery, Chiles developed clinical depression, and was treated with Prozac. He retired from the Senate in 1989 and intended to retire from politics entirely. However, several supporters convinced him to enter the 1990 Florida Governor's race against Republican incumbent Bob Martinez. During the Democratic Party primary, his opponent Bill Nelson attempted to make an issue of Chiles' age and health, a strategy that backfired badly in a state with a large retiree population.
Chiles ran a campaign to "reinvent" the state's government, and defeated Martinez to take office in 1991. During his first term as Governor, Chiles managed to accomplish very little. Although he developed ambitious health-care and tax reform packages, neither passed in the hostile state legislature. The early years of his term were troubled by a national economic recession that severely damaged Florida's tourism-based economy, and by Hurricane Andrew, which struck near Homestead in August, 1992.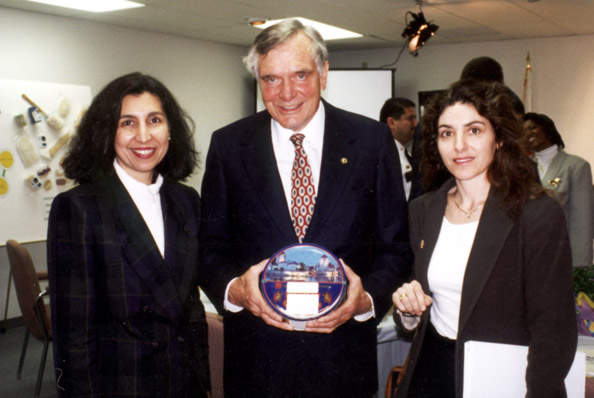 Chiles ran for re-election in 1994 against Jeb Bush. Republican candidate Bush ran a television advertisement which featured the mother of a teenage girl who had been abducted and murdered many years before. The mother stated that "Her killer is still on death row, and we're still waiting for justice. We won't get it from Lawton Chiles because he's too liberal on crime", referring to Chiles not signing the convicted killer's death warrant. Chiles, then governor, responded that he did not sign a death warrant because the case was still on appeal. The Democratic governor further claimed a record of support for the death penalty, having presided over 18 executions during his two terms (among them the first Floridian woman executed since 1848). Moreover, after the botched electrocution of Pedro Medina in 1997, and despite significant public criticism, Chiles refused to allow prescription the use of lethal injection as a lawful form of execution. The new method was introduced under Bush's administration in 1999 after the execution of Allen Lee Davis.
Chiles' second term as Governor was notable as the first time in state history that a Democratic Governor had a legislature controlled by the Republican Party. Despite this, he had some successes, including a successful lawsuit he and state Attorney General Bob Butterworth filed against the tobacco industry, which resulted in an $11.3 billion settlement for the state. He also won approval for a $2.7 billion statewide school construction program.
In 1995 Chiles sought treatment for a neurological problem, after he awoke with nausea, slurred speech, and loss of coordination. He recovered fully.
Ineligible to run a third time, Chiles supported the Lieutenant Governor, Kenneth H. "Buddy" MacKay, in the 1998 Florida governor's race against Jeb Bush. Bush, however, scored an easy victory over MacKay. On December 12 that year, just three weeks before his long-awaited retirement was to begin, Chiles suffered a fatal heart attack while exercising on a cycling machine in the Governor's mansion gymnasium. Funeral services were held at Faith Presbyterian Church in Tallahassee, following a funeral procession that traced part of his walk from the 1970 Senate campaign, from the panhandle town of Century to Tallahassee. He was succeeded in office by MacKay, who served until Bush's term began on January 5, 1999.
Legacy
Legislative and executive programs
Chiles was known as a health care and children's advocate throughout his career. He emphasized health coverage for the uninsured and led a campaign to create the National Commission for Prevention of Infant Mortality in the late 1980s. In 1994 he fought for the creation of regional health care alliances throughout the state, which allow small businesses to pool their health care dollars and broaden coverage while saving money. He also created the Florida Department of Elder Affairs.
In 1992, Chiles created the Florida Healthy Start program to provide a comprehensive prenatal and infant care program available to all pregnant women and infants across the state; since the program's inception the state's infant mortality rate has dropped 18%. In 1996, Chiles appointed a Governor's Commission on Education to examine the state's school system. One of the significant recommendations that came from that commission eventually led to the highly controversial 2002 state constitutionalamendment restricting Florida's school class sizes.
In 1997, pro-life advocacy group Choose Life collected 10,000 signatures and filed the $30,000 fee required under Florida law at the time to submit an application for a new specialty plate. State Senator Tom Lee sponsored a bill in support of the tag's creation. The bill passed both houses of the Florida State Legislature in early 1998, but was vetoed by Chiles, who stated that license plates are not the "proper forum for debate" on political issues.
[edit]Judicial appointments
Perhaps his greatest legacy was his impact on the Florida Supreme Court, where his appointments continued to have a major impact on state and national events long after Chiles' death. Chiles appointed Justice Major B. Harding in 1991, Justice Charles T. Wells in 1994, Justice Harry Lee Anstead in 1994, Justice Barbara J. Pariente in 1997, and Justice R. Fred Lewis in 1998. Chiles and incoming Gov. Jeb Bush jointly appointed Justice Peggy A. Quince in 1998 just a few days before Chiles' death. Quince was jointly appointed because her term as Justice would begin the exact moment that Bush's first term as Governor began, so there was a legal question which Governor had the authority to appoint her. Bush and Chiles agreed to make a joint appointment to avoid a lawsuit over the question.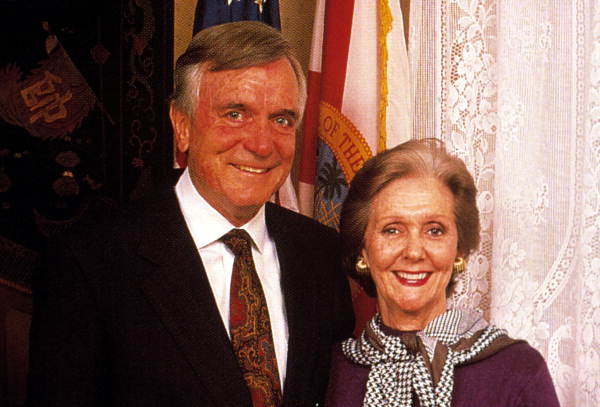 Thus, at one point, Chiles had appointed five of the seven Justices and had jointly appointed the sixth. Chiles' appointments formed the Supreme Court majorities that decided the following major cases:
In 2006, the Court struck down a law passed by the Florida State Legislature that had created the United States' first statewide education voucher program. The majority in this case consisted of Wells, Anstead, Pariente, Lewis, and Quince. Bush appointees Raoul G. Cantero and Kenneth B. Bell dissented.
In 2004, the court struck down another piece of legislation from the Florida legislature designed to reverse a lower court decision in the Terri Schiavo case. This decision was unanimous and included Bush appointees Cantero and Bell. By this time, Harding had retired.
In the 2000 presidential election controversy, the Florida Supreme Court ordered a statewide recount in the disputed election pitting George W. Bush against Al Gore. The United States Supreme Court later reversed that ruling. The Florida Supreme Court majority in this case consisted of Anstead, Pariente, Lewis, and Quince. Dissenting Justices were Wells, Harding, and Leander J. Shaw, Jr., an appointee of Gov. Bob Graham. Shaw retired in early 2003 and was replaced by Bell.
Relatives
Chiles' niece is US Senator Kay Hagan of North Carolina, a Democrat elected in 2008. Hagan is the daughter of Chiles' sister Jeannette. Chiles' son, "Bud" Chiles, ran for the position of Governor of Florida without party affiliation in a grassroots campaign. Like his father, Bud embarked on a walking tour of the state, listening and visiting with local communities in Florida.[23] On September 2, 2010, Chiles dropped out of the race citing "continuing down this road could have unintended consequences, dividing those who hold common goals…" Chiles threw his support behind Alex Sink.
Sources: Wiki/InternetPhotos/FloridaLatinConnection.org
FloridaGovernors:LawtonChiles/Florida Latin Connection/ P. Varona, Editor
CHARLES J. "CHARLIE" CRIST, JR. 
Charles Joseph "Charlie" Crist, Jr. (pronounced /ˈkrɪst/; born July 24, 1956) is an American politician who was the 44th Governor of Florida. Prior to his election as governor, Crist previously served as Florida State Senator, Education Commissioner, and Attorney General. He was elected governor in 2006 with 52.4 percent of the vote (against opponent Jim Davis), and took office the following year.
Crist's term as governor ended in January 2011. Crist announced on May 12, 2009 that he would run instead for the United States Senate seat being vacated by then-fellow Republican Mel Martinez. He later decided to run as an independent in the general election, but lost to Republican Marco Rubio.
Crist was born in Altoona, Pennsylvania on July 24, 1956, to Charles Joseph Crist, Sr., an American physician of Greek Cypriot descent, and Nancy (née Lee), of Scots-Irish American descent. His family name is adapted from the original Greek name "Christodoulou". Crist moved to St. Petersburg, Florida, as a child, where he attended Riviera Middle School and graduated from St. Petersburg High Schoolin 1974. He is the second of four children and has three sisters: Margaret Crist Wood, Elizabeth Crist Hyden, and Catherine Crist Kennedy.
He attended Wake Forest University for two years, where he played quarterback for the Wake Forest Demon Deacons football team. Crist earned his undergraduate degree from Florida State University where he was elected Vice President of the student body and became a member of the Pi Kappa Alpha fraternity. He received his J.D. from Samford University Cumberland School of Law.
Law career
After graduating from law school in 1981, and having passed the bar on his third attempt, Crist was hired as general counsel to Minor league baseball, which was headquartered in St. Petersburg. Drawn to politics, Crist was a candidate for public office for the first time in 1986, as a Republican, in the primary race for a state Senate seat in Pinellas County. After losing in a runoff, Crist joined his brother-in-law in private practice in St. Petersburg, but soon returned to politics as an aide in the successful 1988 United States Senate campaign of Connie Mack III, whom he has since described as his political mentor.
Florida Senate
Crist was elected to the Florida Senate in 1992, representing parts of St. Petersburg, defeating longtime incumbent Democratic State Senator Helen Gordon Davis of Tampa. Crist was able to unseat Gordon Davis following Florida's redistricting, which created an entirely new state senate district. His victory was credited with ending the 128-year control of the Florida Senate by the Democratic Party, resulting in an even 20-20 tie in Senate between the Democrats and Republicans following the 1992 election.
He established a reputation as a law-and-order senator, sponsoring legislation requiring inmates to serve at least 85% of their sentences before becoming eligible for parole. He supported teacher salary increases, co-sponsored laws that created charter schools, and created a vanity license plate sold to raise funds for Everglades conservation. As chairman of the Senate Ethics and Elections Committee, Crist pursued an investigation into actions of then-governor Lawton Chiles amid allegations that Chiles' campaign had made "scare calls" to senior citizens days before the 1994 gubernatorial election. Chiles eventually testified before Crist and the committee and admitted that his campaign had made the calls.
Florida Education Commissioner
Crist gained statewide name recognition in 1998 as the Republican challenger to the popular incumbent Democratic U.S. Senator Bob Graham. He lost to Graham by 26 percent but was elected Education Commissioner of Florida in 2000 – a position he held until it became an office filled by political appointment in 2003, pursuant to a 1998 constitutional amendment.
Florida Attorney General
In 2002, Crist was elected Attorney General. Supporters of his candidacy included America's Most Wanted host John Walsh, who filed Crist's gubernatorial candidacy paperwork, citing his work with the Center for Missing and Exploited Children. During his term as Attorney General, Crist was praised by civil rights and consumer groups for expanding the powers of his office to prosecute civil rights and fraud cases; for combating spam e-mail; freezing utility rates; adding restrictions to telecom companies, and protecting the environment. He was criticized by pro-life advocates during the Terri Schiavo case when he ended official attempts to keep Schiavo on life support.
In September 2006, Canadian anti-consumer-fraud activist and author Les Henderson criticized Crist's handling of the Lou Pearlman-Wilhelmina Scouting Network affair in his self-published book Under Investigation. In 2004, Jacqueline Dowd, the assistant attorney general leading the investigation, was dismissed by the office of the Attorney General. Her successor, John MacGregor, ended the investigation in 2004. Dowd stated that she did not know why she was dismissed. During the 2006 gubernatorial campaign, Crist's campaign manager said that she had resigned, amicably, over a difference of opinion on her contact with the press.
Henderson, citing $5,000 in campaign contributions from Pearlman companies to Crist received a year after the investigation was complete, argued that the investigation was dropped because of Pearlman's political connections. A lawsuit stemming from the Ponzi scheme and investment scandal alleges that Crist and other state regulators failed to protect investors, and also cites campaign contributions.
As Attorney General, he was noted for his position in the Terri Schiavo case, where he disagreed with governor Jeb Bush. Crist received criticism from both sides on this issue.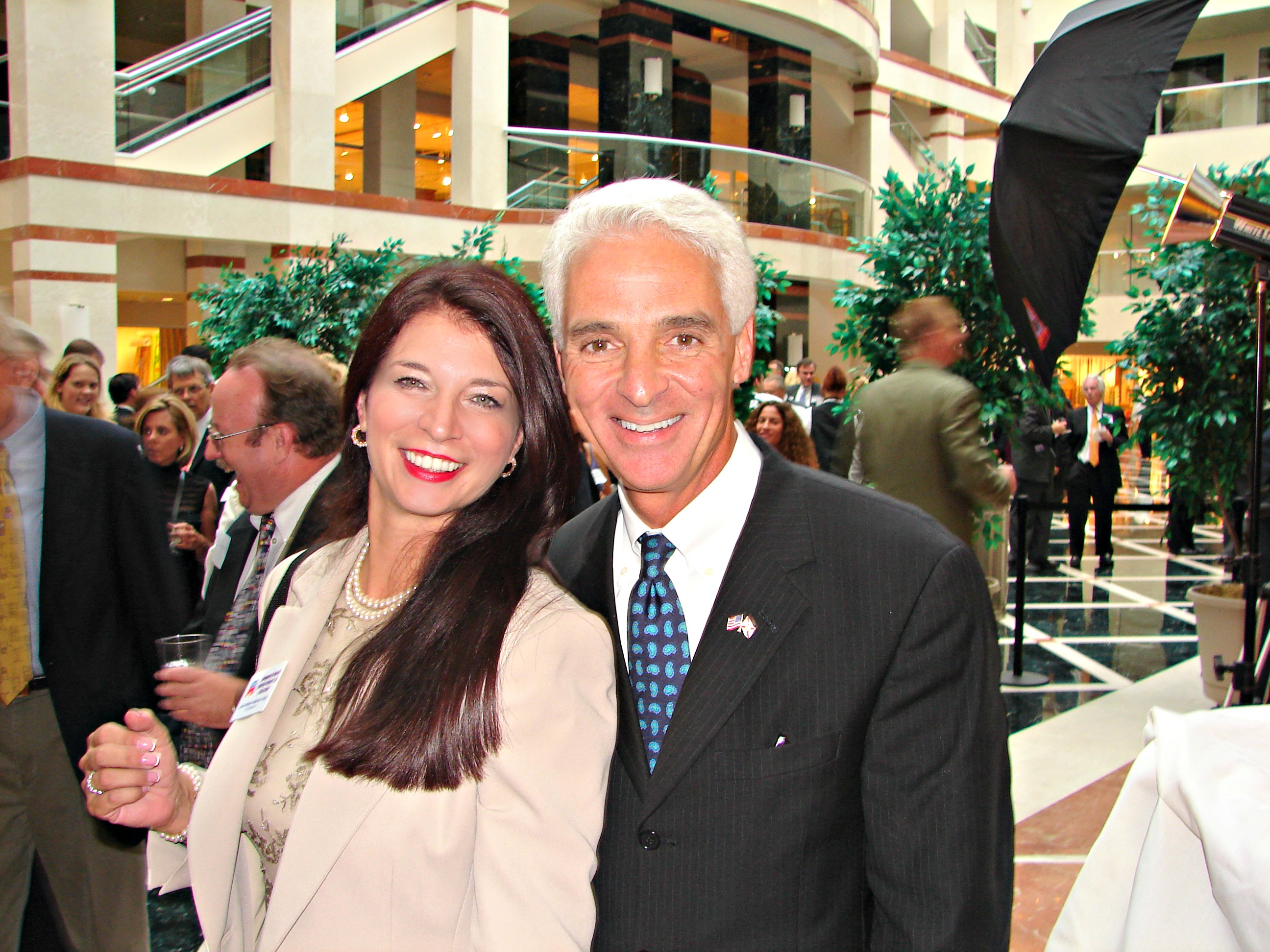 Florida Governor
Crist has received criticism for his fiscal approach, for his support of President Barack Obama's fiscal policies, and for his official schedule.
Crist supported capital punishment and gun rights. In 2008 he signed a provision that prevents employers from prohibiting employees' bringing firearms to the workplace, as long as the weapons are secure and individuals maintain a concealed carry license.
His position on abortion issues is not clear-cut. In 1998 Crist ran for Senate as a pro-choice candidate, and has stated that he opposes overturning Roe vs. Wade. Crist has said that he opposes a mandatory 24-hour waiting period before a woman can undergo an abortion. In the 2010 Senate campaign, Crist first presented himself a pro-life Republican but after he lost the Republican nomination and became an unaffiliated candidate, had all pro-life statements removed from his website. On June 11, 2010 Crist vetoed a bill which would have removed taxpayer funding for abortion, as well as require a woman to have an ultrasound before having an abortion.
Crist supported efforts to ban same-sex marriage in Florida, and supported the current ban on adoption by homosexual prospective parents – saying that a "traditional family provides the best environment for children." His position led gay rights groups to protest the passage of the Florida Amendment 2 (now Article 1 Section 27 of the Florida Constitution) ban on same-sex marriage during his wedding in 2008. He shifted in June 2010, when he stated that he no longer supported Florida's ban on same-sex adoption: "A better way and approach would be to let judges make that decision on a case-by-case basis."
On other issues, Crist differs from other Republicans, particularly on environmental policy, an important issue in Florida. He announced plans to sign executive orders to impose strict air pollution standards in the state, with aims to reducing greenhouse gas emissions by 80 percent of the 1990 levels, by 2050 . In his gubernatorial campaign, Crist opposed offshore oil drilling. Crist altered that position in June 2008, when oil reached peak prices, saying "I mean, let's face it, the price of gas has gone through the roof, and Florida families are suffering, and my heart bleeds for them."
As an environmental advocate, Crist proposed in June 2008 that the State of Florida buy 187,000 acres (760 km2) of land for conservation. Crist described the deal "as monumental as our nation's first national park." The agreement, which still faces legal and financing challenges, would give the state 73,000 acres (300 km2) of sugar and citrus plantations for Everglades restoration projects.
Crist was the first Republican governor to accept the state's National Association for the Advancement of Colored People (NAACP) invitation to a convention, and has been described[by whom?] as the state's "first black governor." Crist endorsed legislation requiring paper records of all ballots cast during an election, stemming from criticism that votes were being undercounted in black communities by computerized voting machines. He has also tackled the state's regulation of the insurance industry, particularly for property (in the aftermath of Hurricane Katrina) and health insurance. While new property insurance legislation has proved controversial – in particular the creation of the Citizen's Property Insurance Corp and the Florida Hurricane Catastrophe Fund (both of which have been described as risky and underfunded) – the health insurance reform efforts have been well received. Standing next to former football star Dan Marino (whose son, Michael, is autistic and who inspired the Dan Marino Foundation, Crist signed a law expanding health coverage statewide for autism disorders and he has also signed legislation expanding low-income coverage and creating public and private insurance options in the state.
Post-gubernatorial career
On January 7, 2011 it was announced that Charlie Crist would join personal-injury law firm Morgan and Morgan. In addition, he will be a part time instructor at Stetson University College of Law.
Political positions: Future of the Republican Party.
On November 12–14, 2008, Crist hosted the Republican Governors Association (RGA) annual meeting in Miami. After the Democratic Party win in the 2008 election, there was speculation about the tone of the Republican Governors meeting. Republican Vice Presidential candidate Sarah Palin was a featured participant and speaker.
Crist's speech at the RGA conference, "Listen to the Voters and Serve" included his sentiments on how the GOP should evolve:
"This party can no longer hope to reach Hispanics, African Americans and other minority groups – we need to just do it. Embracing cultures and lifestyles will make us a better party and better leaders. This desire for inclusiveness is near and dear to my heart…. Last week, the American people made a choice and this week, if we choose to call ourselves leaders, if we truly endeavor to serve with a servant's heart for the people who count on us, then we too must work together, listen to one another and learn from the leaders who made the kind of history the American people deserve."
Crist held a joint interview with Governor Mark Sanford of South Carolina and they discussed the split in the Republican Party over where to direct the party's next efforts to gain more voters.
Political campaigns
In an t interview with Governor Mark Sanford of South Carolina and they discussed the split in the Republican Party over where to direct the party's next efforts to gain more voters.
On October 28, 2008 Crist extended early voting hours of operation and declared that a "state of emergency exists" due to record voter turnout and resultant hours-long waits at locations throughout the state. Some Republican operatives were disappointed with the decision, including one anonymous source who said "He just blew Florida for John McCain."
On October 29 and October 31, 2008, Crist appeared on MSNBC's Morning Joe in which he told former Florida congressman Joe Scarborough that the race was tightening in Florida.
2010 Senate campaign
Crist announced May 12, 2009, that he would not run for re-election as Governor and would run for the US Senate in 2010. His main Republican opponent was House Speaker Marco Rubio, in addition to Democratic nominee Kendrick Meek.
Crist was considered the front runner in the Republican primary, but eventually trailed Rubio by 20 points in polls.
As a result, Crist announced his intent to run as an unaffiliated candidate in the 2010 senate election, while at the same time, according to a press release from his campaign, he would remain a registered Republican. Crist officially changed his registration status to "non party affiliated" on May 13, 2010. After initially signaling that Crist might return former campaign donors' contributions, Crist's campaign later indicated that it will not do so. Crist eventually lost the race to the more conservative Republican candidate Marco Rubio, Crist receiving 30% of the vote, compared to 49% for Rubio and 20% for Meek.
Personal life
In July 1979, Crist married Amanda Morrow; they divorced less than a year later. Crist became engaged to Carole Rome on July 3, 2008 after 9 months of dating, and was married on December 12 of that year at theFirst Methodist Church of St. Petersburg, where Crist is a member.
In April 2009, Crist was one of the subjects of the documentary Outrage, which purports to out politicians who are closeted and opposed LGBT rights legislation. Crist says he is heterosexual and is not gay.
In April 2011, as part of a settlement of a copyright lawsuit brought by musician David Byrne, Crist apologized for his Senate campaign's use of Byrne's song Road to Nowhere without permission authorization.
Last week Florida Democratic strategist Steve Schale sounds pretty comfortable with the idea of Charlie Crist as the Democratic nominee for governor in 2014.   (FromCampaigns & Elections
C&E: Do you think Florida Democrats would welcome Charlie Crist if he wanted to run as a Democrat?
Schale: You know, I've gotten to know him a little bit over the past few years and he's an interesting guy. When I go to events around the state and talk to donors and political leaders, the bottom line is that everybody just wants to win. I frequently quiz people on Crist and there's about half of the chattering class in Florida who's for [him running as a Democrat]. They look at him and see a guy who can win. He can win independents and he'll get a chunk of Republicans, too. Then there's the other half that say, "There's just no way in hell." I think his real challenge would be if he gets in a primary with a narrow field. At this point, you have seven or eight people talking about running for governor. If they all run and Crist gets in, I think he has an easier time. If he runs and ends up our nominee, I firmly believe that Democrats' desire to take back the governor's mansion will trump any concerns they have about Crist.    Full interview here.     (TBT/Leary)
"Gov. Crist for some years now have seen how the political position of the Republican Party has fallen into the hands of the most radical wing of that party, moving away from the old more moderate party line, he had no choice but to look for alternatives and the political position of Gov Crist fits at this time into what the Independents and the Democratic party represents and have done for many years." (AVarona)
Sources: Wiki/CharlieCH/ InternetPhotos/AVarona/FloridaLatinConnection/ P. Varona, Editor
Florida Governors: Charlie Crist/ Florida Latin Connection/ Arnoldo Varona, Editor 
JAMES E. BROOME
James Emilius Broome (December 15, 1808 – November 23, 1883) was an American politician who was the third Governor of Florida.
Early life and career

Broome was born in Hamburg, South Carolina and moved to Florida in 1837. He engaged in the mercantile business until he retired in 1841. In that same year, Governor Richard Keith Call appointed him to the position of Probate Judge of Leon County. He served in that position until 1848.

He was elected governor in 1852 as a Democrat, and took office on October 3, 1853. He was an early States'-Righter. During his term, the Whig Party, the opposition to the Democrats at the time, controlled theFlorida State Legislature. He vetoed so many of the bills that were passed by the legislature that he became known as the "Veto Governor". After his gubernatorial stint ended on October 5, 1857, Broome served as a member of the Florida Senate in 1861. A large plantation owner, he was very sympathetic to the Confederate cause.
James E. Broome was married five times. In 1865, he moved to New York City. On a visit with his son in DeLand, Florida, Broome died in 1883.
Sources: Wiki/InternetPhoto/FloridaLatinConnection.org
James E.Broome/ Florida Latin Connection/ Pura Varona, Editor
THOMAS BROWN
Thomas Brown (October 24, 1785 – August 24, 1867) was an American politician who served as Florida's second Governor from 1849 to 1853. He is buried at the Old City Cemetery in Tallahassee.
Thomas Brown was born in Westmoreland County, Virginia, USA, home to George Washington, James Monroe and others. Brown served in the War of 1812, and subsequently became chief clerk of the post office at Richmond. While in that position, he invented the post office letter box. In 1828, Brown moved with his family to Florida.
Brown, a Whig, became auditor of the Florida Territory in 1834, president of the legislative council in 1838, a member of the constitutional convention in 1839, and a member of the first Florida House of Representatives under statehood in 1845.
As governor, Brown tried to improve Florida's transportation system. Also, he complained that Florida was making slow progress on education. On January 6, 1853, he signed the bill that provided public support to higher education. East Florida Seminary in Ocala is one of the first schools to use this funding, but it soon closed due theCivil War. In 1866, EFS reopens in Gainesville later to become the University of Florida.
Brown was inspired by the discovery of the rich muck lands of the Lake Okeechobee area and encouraged cattlemen and farmers, protected by the Florida militia, to enter the region. Brown also made an effort to determine whether the Everglades should be drained. During this period, Ft. Myers was developed into a full sized village. In December 1855, Lt. George Hardstuff, on a "survey" of Seminole facilities, ram survey lines across Billy Bowlegs prize banana garden and the Seminole Indians returned to war.
Brown was an active Mason for more than 60 years, serving a long term as secretary in the Tallahassee lodge and compiling a book on Masonry. Governor Brown died in Tallahassee on August 24, 1867.
In 1834, Brown built a hotel in Tallahassee called Brown's Inn located on the west side of Adams St. between Pensacola and Lafayette streets. In 1839 it was known as The City Hotel, The Adelphi in 1840, and later the Morgan Hotel. It was destroyed by fire in 1886.
THOMAS BROWN GRAVE
Sources: Wiki/ThomasBrownLife/InternetPhoto/ FloridaLatinConnection.org
Thomas Brown/ Florida Latin Connection/ Arnoldo Varona, Editor
REUBIN O'DONOVAN ASKEW
Reubin O'Donovan Askew (born September 11, 1928) is an American politician, who served as the 37th Governor of the U.S. state of Florida from 1971 to 1979.
Askew was born in Muskogee, Oklahoma, one of the six children of Leon G. Askew and Alberta Askew. His parents divorced, and in 1937, he and his mother moved to Pensacola, Florida. Askew was a member of Escambia Chapter Order of DeMolay in Pensacola. He was initiated in 1944. Askew graduated from Pensacola High School in 1946.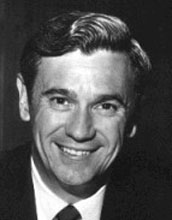 Later that year, he entered the Army as a paratrooper and in 1948 was discharged in the rank of Sergeant. Askew attended Florida State University, at which he was a brother of Delta Tau Delta and Alpha Phi Omega. At FSU, Askew served as Student Body President. He later attended law school at the University of Florida Levin College of Law. He served in the Air Force from 1951 to 1953, as an military intelligenceofficer, overseeing airplane reconnaissance photographs of Western Europe, though he felt uncomfortable with this task as it violated existing treaties.
In 1956, Askew was elected as Assistant County Solicitor of Escambia County, Florida. In 1958, he was elected to the Florida House of Representatives and, in 1962, to the Florida Senate, from 1969 to 1970 he served as President Pro Tempore of the Florida State Senate. He received the Legion of Honor from the International Supreme Council of the Order of DeMolay in 1971.
He emerged as a progressive lawmaker, opposing racial segregation and supporting fairer legislative representation for urban counties.
As governor, Askew was one of the first of the 'New South' governors, at the same time as Governors Jimmy Carter of Georgia, Dale Bumpers of Arkansas (who defeated Orval Faubus), John C. West of South Carolina and later Bill Clinton of Arkansas. He supported school desegregation and the controversial idea of busing to achieve racial balance (mandatory integration); in addition he named the first black Justice of the State Supreme Court, Joseph Woodrow Hatchett and appointed M. Athalie RangeSecretary of the Department of Community Affairs, the first black since Reconstruction and the first woman to head a state agency in Florida. Additionally, Askew appointed Jesse J. McCrary Jr. as Secretary of State in 1978, the first black to hold a cabinet level office in Florida in the modern era.
Askew personally believed that death penalty was only necessary in rare cases. Governor Askew ordered a new investigation into the case of two death row inmates, Wilbert Lee and Freddie Pitts, who had been wrongfully convicted in 1963. Askew participated in part of the inquiry and in 1975 pardoned both inmates.
Askew's national stature in the Democratic party grew, and in 1972, he was the keynote speaker at the Democratic National Convention in Miami. For the 1972 presidential election, he was offered the Vice Presidential slot on the Democratic ticket with Presidential nominee George McGovern, but he turned it down. He later accepted an appointment as Chairman of the Advisory Committee on Ambassadorial Appointments under President Jimmy Carter.
He was also mentioned as a front-runner for the 1976 Vice Presidential nomination.
Barred from seeking a third term as governor, Askew finished his second term as governor and then accepted President Carter's invitation to be the United States Trade Representative and served until Carter's term ended in January 1981.
Askew was the first Trade Representative who held title United States Trade Representative, not Special Trade Representative, as his predecessors were called.
Presidential bid in 1984 and Senatorial bid in 1988
In 1994, former Governor Askew was named to the founding class of the Florida DeMolay Hall of Fame, a Masonic honorarium.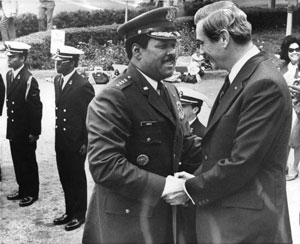 The Reuben O'D. Askew School of Public Administration and Policy at Florida State University was named for him and offers courses in government at several Florida universities. The Askew School awards undergraduate, masters, and doctoral degrees, and offers non-degree certificate programs, in public administration and related disciplines. It has been consistently ranked by U.S. News & World Report as one of the premier public affairs schools in the United States. Askew lectures on state and local government as well as international trade.
In 1994, the Reubin O'D Askew Institute on Politics and Society at the University of Florida was created in recognition of the fact that the state needed a vehicle to bring people interested in the future of Florida together to discuss issues facing the state. Rapid population growth in recent years has meant that many Floridians are unaware of the state's history or the major issues which must be resolved to ensure a bright future for all citizens.
Askew's middle name, ''O'Donovan'', was his mother's maiden name, and he kept the double initial (O'D.) in her honor.
He married the former Donna Lou Harper in August 1956, and they have been married for more than 50 years. They have two children: daughter and son.
Askew's father and two brothers had a "serious drinking problem", which helps explain why he is a lifelong teetotaller and non-smoker.
Widely regarded as an effective Governor, Askew was named one of the 50 most important Floridians for "Tax reform, racial justice and honesty in government were the hallmarks of his governorship".
He was also found by Harvard Scholars as one of the best U.S. Governors in 20th century.
The Student Life Center at Florida State University was renamed to the Reubin O'D. Askew Student Life Center  in his honor. The library at his high school alma mater, Pensacola High School, was also named after him. Interstate 110 in Pensacola is named the Reubin O'Donovan Askew Parkway.
He was designated a Great Floridian by the Florida Department of State in 1998. The program is intended to recognize and record the achievements of Floridians, living and deceased, who have made major contributions to the progress and welfare of this state.
The character of Freddy Picker, a former Florida Governor and a primary Democratic candidate for President in the novel and movie Primary Colors was partially based on Askew.
Sources: Wiki/InternetPhotos/FloridaLatinConnection.org
FloridaGovernors: Reubin O'D. Askew/ Florida Latin Connection/ Arnoldo Varona, Editor
ROBERT "BOB" MARTINEZ
Robert "Bob" Martinez (born December 25, 1934) was the 40th Governor of Florida from 1987 to 1991. Prior to that, he was the mayor of Tampa from 1979 to 1986.
The grandson of Spanish immigrants, Martinez was born in Tampa, Florida. He received a bachelor's degree from the University of Tampa and went on to earn a master's in labor and industrial relations from the University of Illinois. In the late 1960s, Martinez returned to Tampa to teach.
Martinez became involved in the Hillsborough County Classroom Teachers Association, the local teachers' union, and was named the executive director of the HCTA in 1966. In 1968, the Hillsborough CTA supported the Florida Education Association's call for a state-wide teacher strike in support of more education funding and collective bargaining rights for teachers. Though the labor action was seemingly unsuccessful in the short term, it eventually set the stage for better salaries and better relations between teachers and the state.
Political career
Mayor of Tampa
Martinez ran successfully for the office of mayor of Tampa in 1979. While Mayor, the city built one of America's first refuse to energy plants, a performing arts center, convention center, reconstructed the zoo, restored the 1915 City Hall building and annexed thousands of acres of undeveloped land that became New Tampa.
Although the mayor's office is nonpartisan, Martinez was known to be a Democrat. However, in 1983, he changed his affiliation to Republican. In 1986, he resigned as Mayor to run for governor. He defeated fellow Republican former U.S. Representative Louis Frey, Jr., of Winter Park for the gubernatorial nomination. He then won the general election, having become only the second Republican elected to that office since Reconstruction and the first (and thus far, only) Hispanic to serve as governor of Florida. Martinez was inaugurated on January 6, 1987.
Governor of Florida
As governor, Martinez initiated America's largest environmental land acquisition program, Preservation 2000. He proposed the Surface Water Improvement Management act that protects Florida's surface waters, including Lake Okeechobee, Tampa Bay, Lake Jackson, the Kissimmee River, and other areas. He helped get Florida's first solid waste management law passed and implemented Florida's Growth Management Act. He was an advocate of laws and rules that protected manatees and dolphins. He aggressively sought to eliminate wasteful spending projects sponsored by members of the legislature, and increased spending on the state's drug control programs. For a time, Martinez was regarded as a "rising star" in Republican politics.
In 1987, following the destruction of the Space Shuttle Challenger the previous year, Martinez appointed a number of aerospace industry and community leaders to the "Florida Governor's Commission on Space." This concept was undertaken by Stephen Lee Morgan, vice chairman and executive director of the Florida Space Business Roundtable, Inc., a non-profit organization of Central Florida aerospace industry executives.
Martinez appointed Martin Marietta executive A. Thomas Young as chairman of the Commission, with then-Florida Secretary of Commerce Jeb Bush (later Governor of Florida himself), as vice chairman. The Commission was widely hailed as a leader in the arena of state-sponsored economic development initiatives in the aerospace industry, and led to the establishment of the Spaceport Florida Authority, following the release of its formal report, "Steps to the Stars" in 1988 (drafted under the direction of the Florida Department of Commerce's Dr. Chris Shove). While now defunct, the Florida Spaceport Authority did orchestrate several commercial launches from unused launch facilities at Cape Canaveral, Florida, including America's return to the moon with an unmanned orbiting vehicle aboard a Lockheed Martin rocket, the Athena (then called the "Lockheed Launch Vehicle" or "LLV"). The Authority was succeeded by an organization known as "Space Florida." The purpose of the Commission was to identify approaches and specific actions which the State might take to mitigate Florida's reliance on the Space Shuttle program as an employer in the space industry. Results were mixed, with some successes and a number of programs which bore little fruit.
Struggles and controversy
However, Martinez hit a bump in the political road. In order to raise more revenue for the state, the Florida legislature passed a sales tax on services with Martinez's support. The response from Floridians was strongly negative, so only two months after the tax went into effect, Martinez called the legislature back for a special session to repeal it.
Though the tax was repealed and replaced by a traditional sales tax on goods, the perceived flip-flop on the issue seriously hurt the governor's credibility among Floridians and reduced his ability to get his initiatives enacted.
Two years later, in 1989, after a U.S. Supreme Court ruling allowed states greater flexibility to restrict abortions, Martinez called the Florida Legislature into special session in an effort to pass pro-life laws. None of the governor's proposals made it out of committee and his approval ratings sank to around 24%. Also in that year, Martinez vowed to "clear Death Row" and signed over 90 death warrants, some of which did not pass all state and federal appeals. In 1990, TIME magazine referred to Martinez as "embattled" as he authorized a statewide television advertisement campaign boasting his deeds, which were largely unpopular.
In 1989, Martinez ordered state prosecutors to determine whether Miami-area rappers 2 Live Crew's album Nasty as They Wanna Be violated Florida obscenity laws. As a result, record store owners were arrested for selling the album and members of the group were arrested after a concert.
All arrested parties were eventually acquitted. On Banned in the USA, their follow-up album, 2 Live Crew included a song entitled Fuck Martinez.
In 1990, Martinez was defeated in his bid for re-election by former Democratic United States Senator Lawton Chiles.
Post elected-office
After leaving the governor's office on January 8, 1991, Martinez was appointed by President George H. W. Bush to the cabinet rank position of Director of the Office of National Drug Control Policy (or "Drug Czar") where he served until January 20, 1993.
Since then, Martinez has served as a consultant to Florida-based law firms[10] and is a political analyst for Bay News 9 television. He is a trustee of the University of Tampa, and a director of the Hillsborough Education Foundation, Tampa's Lowry Park Zoo and the Tampa Bay History Center, all local nonprofit groups involved in some way with education.
Sources: Wiki/InternetPhotos/ FloridaLatinConnection.org
Florida Governors: Bob Martinez/Florida Latin Connection/ Arnoldo Varona, Editor